TECHNICAL DATA SHEET
Product Name: Norst® PB-402-24
Norst® PB-403-34
Norst® PB-404-44
Product Description
Norst® PB-402-24: Is a highly modified polyisobutylene polymer that exhibits high tack and cold flow over a very wide temperature range (-60°F to 450°F, with variants stable to 650°F and 800°F). It is impermeable to water or oxygen. It has good tensile and bond strength, high film strength, permanent tackiness, excellent aging/weather resistance, low stain, low electrical conductivity. It is odorless, colorless, and highly stable. Chemical resistance is comparable to other polyisobutylene polymers. Norst® PB-402-24 can be used as a high performance additive in any non-aqueous system where high tack and elasticity are needed.
Typical Properties
Staudinger Index: 48.5 ml/g
Viscosity Range: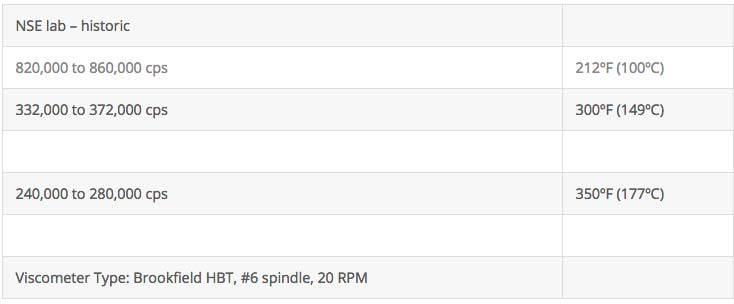 Molecular Mass:
Avg Mass (Mw)           78,753
Avg Number (Mn)      1941
Z Avg Mass (Mz)          334,524
Dispersity                     40.6
Density: 0.91 g/cc (at 20ºC)
Modulus:
Storage (G')     1.533E+004 Pa (at 25ºC)
Loss (G")          6.356E+003 Pa
Glass Transition: -77º±1ºC (Tg by DSC at 20ºC/Min)
Penetration Range: 150-299 (cone penetrometer, 150 gm weight, 5 seconds at 77ºF)
Volatility: 0.17 wt % (% at 105ºC for 2 hr, g/100g)
Classification: Proprietary polyisobutylene polymer. 100% solids. Available at 50%-70% solids in mineral spirits.
Color: Light gray to light amber
Uses
Adhesives: High tack and elasticity in PSA adhesives; water and gas proof barrier in sealing tapes; cold flow properties make it ideal for use in "self-healing" barrier products.
Variants functional at very high temperatures, Norst® PB-403-34 up to 650°F (343°C), Norst® PB-404-44 up to 800°F (427°C).
Sealants: Waterproof and gas proof barrier; excellent tack and elasticity for sealants and mastics; cold flow over a wide temperature range in "self-healing" products; good internal cohesive strength.
Products
Industrial and nonwoven adhesives, tapes (including high temperature autoclave and other specialty tapes), electrical insulation and cable filler, construction mastics and caulks, waterproofing compounds, pipeline protection, roofing membranes, bitumen modification, etc.
Substrates and Systems – Chemistry Non-Polar
Core Structure: Distinctly branched aliphatic which gives excellent chemical, weather and oxidation resistance, stability and low color. Best functioning in butyls, EPM/EPDM, microcrystalline wax, asphalt and polypropylene, HDPE, LDPE, polyisobutylene, etc.
Diluents and carriers: Aliphatic and napthenic solvents work very well.
Suitable for solvent-based composition hot melt adhesive and sealant applications, and can be formulated with other polymers, resins, filters, pigments, oils, thickeners, waxes and stabilizers to obtain a desired balance of properties. Avoid strong oxidizers.
NorthStar Elastomers provides broad product modification opportunities through blending of custom polymers to modify tack, elasticity, temperature stability, etc.
Polar polymers: (Such as urethanes, acrylics, polyesters and polyamides) are generally incompatible. Avoid polar solvents.
Packaging
45 pound boxed; 350 pound open head drums.
Quick Release boxes available. Drums are coated for clean, efficient unloading.
25 pound Quick Release boxes also available.
KEEP OUT OF REACH OF CHILDREN FOR PROFESSIONAL OR INDUSTRIAL — USE ONLY— USE ONLY WITH APPROVED EQUIPMENT
NOTICE TO PURCHASER: NO WARRANTIES, EXPRESS OR IMPLIED, ARE MADE INCLUDING MERCHANTABILITY AND/OR FITNESS FOR A PARTICULAR PURPOSE. EXCEPT FOR PERSONAL INJURY RESULTING FROM — USE OF THE PRODUCT AS DIRECTED, NORTHSTAR ELASTOMERS, LLC, SHALL NOT BE LIABLE IN TORT OR CONTRACT FOR ANY LOSS OR DAMAGE. UNDER NO CIRCUMSTANCES SHALL NORTHSTAR ELASTOMERS, LLC, BE LIABLE FOR ANY LOSS OR DAMAGE ARISING FROM THE PURCHASE, — USE, OR INABILITY TO — USE THIS PRODUCT, OR FOR ANY SPECIAL, INDIRECT, INCIDENTAL, OR CONSEQUENTIAL DAMAGES. THE — USER MAY SEND A SAMPLE OF PRODUCT TO NORTHSTAR ELASTOMERS, LLC, FOR TESTING. IF SUCH TESTING PROVES A PRODUCT DEFECTIVE, THE — USER'S SOLE AND EXCLUSIVE REMEDY IS EITHER REIMBURSEMENT OF THE PURCHASE PRICE OF THE PRODUCT OR REPLACEMENT OF THE CONTAINER OF PRODUCT. NO FABRICATOR, INSTALLER, DEALER, AGENT OR EMPLOYEE OF NORTHSTAR ELASTOMERS, LLC, HAS THE AUTHORITY TO MODIFY THE OBLIGATIONS OR LIMITATIONS OF THIS WARRANTY.
This warranty gives you specific legal rights, and you may also have other rights, which vary from state to state; therefore, some of the limitations stated above may not apply to you. It is to your benefit to save your documentation upon purchase of a product. The information and suggestions for use are contained herein are believed to be accurate, but are not to be construed as warranties. User shall determine the suitability of the product for his or her intended use and shall assume all risk associated therewith.